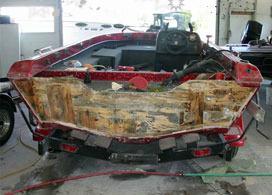 Hello fellow boat lovers! Has the ice thawed yet? Spring is gearing up around here which means that we are too. We are getting our boats ready to sell for spring, tuning up boats that have been stored with us during the winter, and making room to welcome any boats that may be in need of repair before boating season officially begins. Whether you damaged your transom last year and are just now getting around to fixing it, or you just noticed issues now that you've taken it out of storage, Anchor Marine Repair is ready and willing to perform transom damage repair on your beloved boat.
What is the Transom?
Before we talk about how awesome our technicians are and the great job they do to repair your boat, we figured it'd be nice if we explained what the transom actually is and why it is so important to your boat. Now, take a look at the back of your boat. This is where you'll get the best view of the transom. It is directly opposite of the bow and commonly displays your boat's "name" on the back. They can be either curved or flat and may be as high as the hull or as low as the waterline, all depending on your boat. This part of the boat is an essential component to its structure. If it is damaged or looks like it's rotting, it's important to get it repaired as quickly as possible.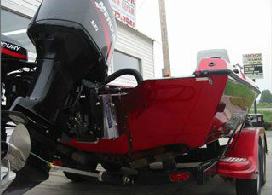 Repairing a transom on your boat is not a do it yourself type of job. Quality installation is an integral part of keeping your boat in excellent condition. Since the transom is an area of the boat that sees the most wear and tear, it's not uncommon for it to start to rot. If this happens, it's not only the integrity of your boat on the line, but also the safety of its passengers. Every transom repair is different. Some may need a portion repaired, some damage may extend to the floors and stringers, or it all may need to be replaced. Our professionals can assess the damage and determine the best solution for your boat. We have worked with all different types of transoms and understand the different curvatures that may be present. We have also worked with boats that have splash wells molded onto the area that may require separation for repair. Stringers, floors, and many other unforeseen obstacles are all under our belts as we have over 45 combined years of boat repair and renovation experience.
Whatever your reasoning for transom damage, we are here to help repair it and get your boat ready for the spring. For more information about Anchor Marine Repair, contact us today at 763-972-3540 or send us an email at service@anchormarinerepair.com.