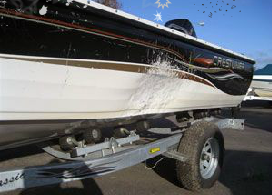 Whether you are headed out to hunt waterfowl, doing some autumn fishing or simply enjoying the fall colors, your Aluminum Boat should be up to the adventure. They are some of the most durable boats used in Minnesota and Wisconsin. But, even the best boats can be damaged by dragging, trailering, age, collisions or bad weather. Luckily, the Twin Cities West Metro area has expert technicians located at Anchor Marine Repair who can handle all kinds of Aluminum Boat Damage Repairs from Hull Damage, Transom Damage, Storm Damage, Corrosion Damage and Rivet Repair, they have got you covered.
Common Aluminum Boat Damages
Some of the most common Aluminum Boat Damages repaired at Anchor Marine Repair include the following: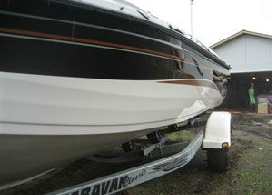 Collision Damage Repair
Storm Damage Repair
Aluminum Hull Damage Repair
Transom Repair
Aluminum Welding
Scratch and Dent Repair
Corrosion Damage Repair
Aluminum Boat Rivet Repair
Aluminum Welding and Painting Experts
Aluminum Hull Welding and Aluminum Boat Painting are specialized skills. The last thing you want when you are out in a secluded area of the lake is to find leaking rivets or a bad weld on a gash in the hull. Don't trust your boat to anyone that is lacking experience with Repairing Aluminum Boat Damages.
The Right Skills, Experience and Facility
There are so many wonderful brands and varieties of aluminum boats in Minnesota. Each has something that is unique in the way it is made, how it looks, the way it handles on the water and the way it should be repaired. Finding a marine repair shop with the right skills, technologically advanced facility and experience is the key to the best overall Aluminum Boat Repair Experience.
Aluminum Boat Welding and Painting Experts
Expert boat repair doesn't have to be expensive, but it does have to be done right. Anchor Marine Repair is a trusted Aluminum Boat Repair Shop with some of the best technicians in the industry. We provide our customers with excellent quality and value on every marine repair, refurbishing, renovating or revitalizing project that comes into our Boat Repair Shop.
Twin Cities West Metro area Boat Repairs
Don't waste your time with an inexperienced boat repair shop. Take your Aluminum Boat to Anchor Marine Repair for a job well done. We provide excellent workmanship and value to our fellow boat lovers in and around the Twin Cities West Metro area. Our technicians can help you with anything from minor cosmetic repairs to major collision damage. We are a trusted Aluminum Boat Repair Shop that wants you to be more than satisfied with our commitment to Quality Workmanship and Value.
In the Twin Cities area, call Anchor Marine Repair a Free Estimate on Aluminum Boat Repair at 763-972-3540