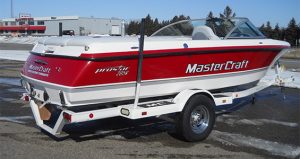 As the summer months approach, boat owners in Delano, MN, are eagerly anticipating sunny days out on the water. However, before you embark on your seasonal adventures, it's crucial to ensure that your boat is in top-notch condition. That's where Anchor Marine, the leading marine service and repair company in Delano, comes to the rescue. With their expertise in boat restoration, you can trust them to get your vessel summer-ready and ensure a safe and enjoyable boating experience.
Preserving The Beauty And Functionality Of Your Boat
Over time, boats can become worn, damaged, or lose their luster due to exposure to harsh weather conditions and general wear and tear. Anchor Marine specializes in boat restoration, breathing new life into aging vessels. Their team of skilled technicians possesses a wealth of experience and knowledge in boat repair, and they utilize cutting-edge tools and techniques to restore both the aesthetics and functionality of your boat.
Repairing Boat Structural And Cosmetic Damage
Whether your boat has suffered from hull damage, gel coat cracks, or faded paint, Anchor Marine has the expertise to restore its structural integrity and visual appeal. They offer a comprehensive range of services, including fiberglass repair, gel coat restoration, woodwork refinishing, and metalwork refurbishment. By addressing these issues promptly, you can prevent further deterioration and costly repairs down the line.
What sets Anchor Marine apart from other boat restoration companies is their commitment to customer satisfaction. They take the time to understand your unique needs and budget, providing tailored solutions that meet your requirements. Their friendly and knowledgeable staff are always ready to answer your questions and guide you through the restoration process, ensuring transparency and clear communication at every step.
With summer just around the corner, now is the perfect time to prepare your boat for the season. Anchor Marine in Delano, MN, offers top-notch boat restoration services that will transform your vessel and get it ready for endless days of fun on the water. From structural repairs to cosmetic enhancements and mechanical overhauls, their skilled team has you covered. Don't wait until the last minute—contact Anchor Marine today to ensure your boat is summer-ready and enjoy a worry-free boating experience.