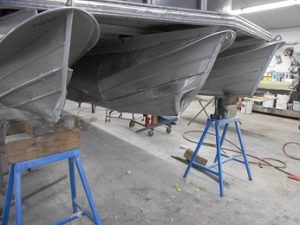 At Anchor Marine Repair, we are proud to provide quality repairs and renovations for our dedicated boaters. Whether your boat has been sitting in the shed for years or it just got into a collision yesterday, all of our boats are repaired, restored and returned back to you better than their pre-accident condition. So regardless of if you are looking for a complete renovation or aiming for a few simple repairs, Anchor Marine Repair has got you covered.
It's important to be able to trust anyone that is handling your boat. Afterall, the boating season is right around the corner and you don't want to miss a single second. At Anchor Marine Repair, we love what we do, and it shows. Our passion for restoring boats is bar none. Every boat that comes into our garage is handled with care. Our commitment to repair, renovations and refinishing will instantly give you peace of mind. All of our technicians on the team have been with us for at least 10 years or more. With over 45 years of combined boat repair and renovation experience, we should be your first and only choice for boating repairs and renovations.
New Boat Damage Technology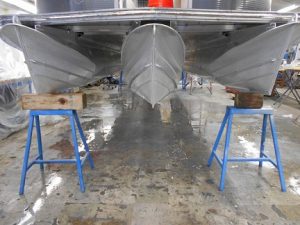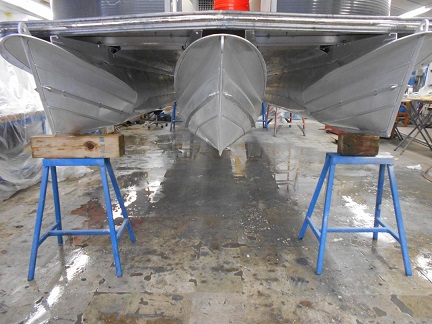 While our experience surpasses any other boating repair shop around, it doesn't mean that our commitment to staying up to date with technology is lost. We use the finest boat repair products available, and our team is dedicated to staying abreast on the most current technologies and techniques on the market. Our property has two large buildings with a combined total of 10,000 square feet. With a 42 and 48 foot spray booth, we can accommodate boats up to 38 feet in length, handling any repair or renovation you may need.
Marine Body Repairs & Renovations
With the exception of mechanical work, Anchor Marine Repair can repair anything on your boat in a timely manner. We have seen it all. From extensive damage in a collision to a 30 year old boat ready for an upgrade, we've got you covered. We can perform any welding, structural or body work that is needed to restore your boat. Additionally, we offer painting, reupholstering and everything in between.
If you are looking for quality boating repairs and renovations, come see us at Anchor Marine Repair today. For more information about our services, give us a call today. Contact Anchor Marine Repair at (763) 972-3540 or send us an email at service@anchormarinerepair.com