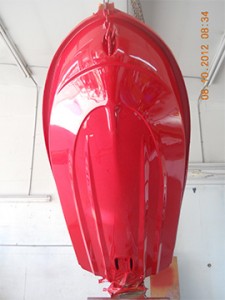 Owning your own boat can bring months of enjoyment from spring to fall, but when winter comes, it's time to put your boat in the garage or in storage for the season, waiting for the next beautiful day to get out on the water. In the meantime, though, why not take advantage of the time spent indoors by taking your boat in for maintenance, repairs, and remodeling? Rather than running into any problems next spring when you start it up again or bringing your boat in mid-spring for a remodeling project that could have been completed before, why not use the time when you can't be on your boat to make any adjustments you could want or need this year? At Anchor Marine Repair, we work year-round, providing winter boat overhauls for boat owners all over Minnesota from our Delano, MN boat repair shop.
Wintertime Boat Repairs
There's never a good time for boat repairs, but if you have to repair your boat, what better time than the winter? If you've been putting off repairs, or if you thought there was something a little off the last time you were out on the water, bringing your boat in for winter boat repairs and maintenance could save you from running into any problems when the warm weather hits again. By making boat repairs in the coming months while your boat would be in storage anyway, you can save yourself from putting your boat out of commission come spring or summer, when the only thing you want to do is get back on the water as quickly and frequently as possible.
Off-Season Boat Remodeling
Are you looking to upgrade your boat? Do you want a more stylish boat, a faster boat, or a more functional boat? If a winter boat repair sounds like a good idea to you, maybe you should take it a step further and have some winter boat remodeling work done, too! With off-season boat remodeling, you can be sure that the next time you're on your boat, it will feel like the first time all over again, and you'll ring in the warmer weather with boat that's just like new, complete with everything you've been wishing your boat had all year.
Hassle-Free Winter Boat Transportation
If you're worried about transporting your boat to our repair shop this winter, stop worrying! Let us take care of the boat pickup and drop-off, transporting your boat to our Delano, MN boat repair shop for any wintertime boat repairs or remodeling projects. At Anchor Marine Repair, we transport and service boats which means that, no matter where you are, chances are good that our Minnesota boat repair company can provide any boat repair or remodeling services you need this winter. Contact us today at 763-972-3540, or email service@anchormarinerepair.com, and make this the winter when your boat comes home looking brand new again.