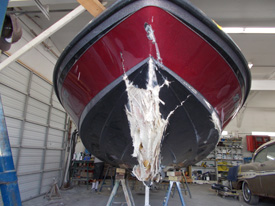 Well, another season has come and gone. Folks in Minnesota are loading up their boats and packing it in for the winter. Until next year, boating season. As you are loading up your pride and joy and prepping it for winter storage, don't forget to really examine your boat. If it has been scratched, hit, dinged, or damaged in any way, now is the time to bring it into Anchor Marine Repair. At Anchor Marine Repair, we specialize in restoring boats to better than new condition.
Boat Repair Services
Whether you have a small nic in the siding or an entirely smashed nose, Anchor Marine Repair can repair boat damages both large and small. Our boat restoration services include:
Structural boat damage
Wood floor refinishing
Transom replacement
Top replacement
New upholstery
Leaking rivet repair
Boat trailer repair
Just because your boat was incredibly expensive, doesn't mean your repair has to be. Anchor Marine Repair is the #1 storm and collision damage repair for boats in the area. We will work with almost every company out there to assist you in your claims process. We understand that owning a boat can be a hefty investment, so we want to make sure that the value of your investment does not go down with subpar repairs. Restoring boats to better than new condition is a motto that we take seriously around here.
Our Boat Repair Team and Facility
Because we want the best for our customers, we only have the most experienced technicians on our staff. Each member of the team has been with us for at least 10 years, providing over 45 years of boat restoration services to all of Minnesota and the surrounding areas. Our facility is over 10,000 square feet and can accommodate boats up to 38' in length! This means no boat is too big or small to be fixed at Anchor Marine Repair! Is your boat damaged but you have no way to get it here? We can help! Our estimates and consultations are always free, and we come to you! Additionally, as long as your are, we will pick your boat up from the dock, home, or marina where it's currently resting.
Anchor Marine Repair is the best place in Minnesota if you are looking at restoring your boat to better than new condition. For more information or to get your boat in before next year's boat season, call us today at 763-972-3540.