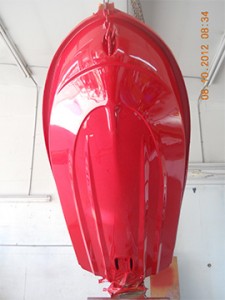 Did you leave your boat out in the cold this winter? Did a tree or any other debris fall on your precious boat during our numerous storms this season? Or maybe you tore the bottom of your boat loading it onto the trailer on the last day of boating season and just haven't had time to get it fixed? Whatever the case, if your boat is damaged due to a storm or collision and you live in the great state of Minnesota, it's time to call Anchor Marine Repair.
#1 In Boat Repair
We are the best and most reliable boat repair and renovation shop around! No project is too large or small for our expert team! To better accommodate everyone, we run our operations in a 10,000 square foot, state of the art facility. This gives us the ability to work on multiple types of boats – including those as large as 38' in length! We also understand that when a boat is damaged in a storm or collision, it can be hard to find a way to transport it. We've got you covered there too! We offer pick-up from your home, dock, or marina.
Storm Damage Boat Repair
Every single technician on staff has been with our team for at least 10 years or more. We have over 45 years of combined experience in boat repair, renovation and refurbishing to offer to all of our clients. Our passion and love for boats is identified through the work that we perform restoring your boat to an even better condition than it was before. We know that like any accident, boats damaged in a storm or collision can be costly. To help serve our customers, we work with insurance companies directly so that you receive the best repair on your boat as possible!
Fiberglass, Metal and Aluminum Boat Repair
Like we've said before, no repair is too large or small. We are able to perform fiberglass repairs, metal flake repairs, and aluminum boat repairs for collision, structural, and storm damaged boats. We offer free estimates and consultations for anyone in need of a boat repair — all you have to do is call!
So, if you live in the Minnesota area and are in need of having your boat fixed before boating season arrives, it's time to give Anchor Marine Repair a call today at 763-972-3540!