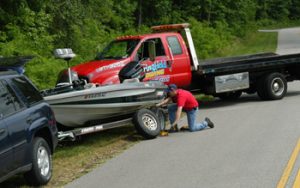 This time of year, folks are taking their boats out of the MN water to winterize and put them away for the winter. Before you head down to the boat ramp to pull your boat out for the season, make sure you look over your boat trailer. Commonly overlooked and frequently ignored, boat trailers are an important component of boating and should not be neglected. Your boat trailer plays a large role in your boating experience. It allows for you to launch your boat for a fun day out in the sun and allows you to pick your boat up, travel and even store your boat, keeping it in good and safe condition.
Just like your boat, your trailer is frequently in and out of the water, requiring regular maintenance and preventative care. This is especially true if you are submerging your boat into saltwater. Rinsing and checking each piece of your trailer regularly will help prevent large breakdowns in the long run. If you aren't as well versed in checking your trailer for faulty issues, our team of professionals is happy to perform periodic inspections on your trailer to ensure that it is in working order. We look at the springs, bolts, and underneath the carriage for any issues. We will check the tires for any dry rot or balding, evaluate the lights and pay special attention to your tow vehicle hitch. Ensuring that everything is in working order ultimately ensures safety when you need it most.
Boat Trailer Repairs
Should your boat trailer be in need of repairs, our team of professionals can help. Whether the lack of maintenance has compromised its integrity or perhaps there was an accident and your trailer was damaged, we can help. We can handle all of your tire mounting and balancing needs, perform axle maintenance, restore damaged trailers and accident repairs, replace and upgrade lighting and wiring, etc. If you need anything done to your trailer, we have got you covered.
Don't load your boat up until you know that your trailer is in good shape! For more information about boat trailer repairs in Minnesota or any of our services here at Anchor Marine Repair, give us a call today. Contact Anchor Marine Repair today at (763) 972-3540 or send us an email at service@anchormarinerepair.com.