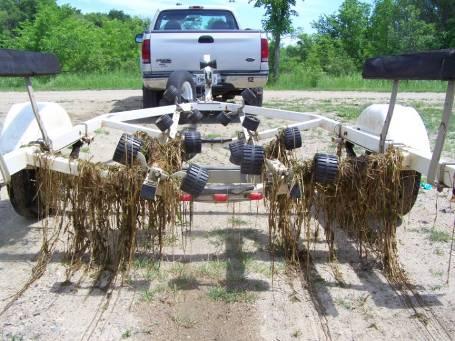 Imagine it's your first day of boating season and you are getting ready to take your boat out and down to the water. You winterized it like you were supposed to and kept it safe all season long and now it's finally time to get out and enjoy the water again. Unfortunately, your boat trailer did not fare so well. Boat trailers are frequently overlooked because they truly only serve one purpose: to get in and get out of the water. However, if your boat trailer is damaged or broken, your boat might as well be too. At Anchor Marine Repair, we offer boat trailer repairs in Minnesota and work to get yours repaired as quickly as possible so you can resume your fun times out on the water.
Common Boat Trailer Problems
While we don't really think of boat trailers being a large component to our boating process, it's arguably the most important. Boat trailers are constantly being submerged in and out of the water. This makes it a perfect breeding ground for rust and corrosion to take over. This is especially true in saltwater. Also, water submersion can cause a short in electrical venues like light bulbs. Before you ever load your boat onto your trailer, you should be checking on the springs, bolts, undercarriage, bearing, hubs, wheels, tires and even the lighting. Without this proper evaluation, the damage to both your boat and your trailer could be detrimental.
Boat Trailer Repairs
Fortunately, our experts here at Anchor Marine Repair have a full understanding about boat trailers. We perform all different aspects of boat trailer repairs and can quickly and efficiently get your boat trailer repaired and back to you. We perform accident repairs, tire mounting, balancing and replacing. We do routine axle maintenance, complete restorations and will repair your lighting and wiring. While we are happy to perform all types of boating trailer repairs, we encourage our customers to consider regularly scheduled maintenance on their trailer as well. Afterall, the integrity of your boat and your time depend on it.
At Anchor Marine Repair we offer free estimates and consultations for everyone. We also provide pickup and delivery services. If you are in need of boat trailer repairs, don't wait another minute. Give Anchor Marine Repair a call today at (763) 972-3540 or send us an email at service@anchormarinerepair.com.