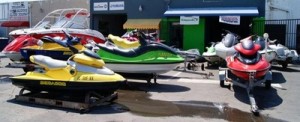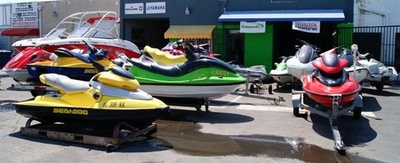 At Anchor Marine Repair, we completely understand. There is absolutely nothing that compares to being out on the water on a jetski. We guess you could say that jetskis are the motorcycles of the waterway.
Jetski Body Repair Shop
Looking for an insurance approved jet ski bodyshop in the St Paul, MN area? Anchor Marine Repair has you covered. We are the land of 10,000 lakes, right? So it's natural to see a lot of damaged jetskis come through our doors in desperate need of repair. After all, jetskis aren't made to be boring! No! Jetskis are made to crash through waves, maneuver through tough obstacles, and give your heart that extra beat of excitement. So it's no surprise that all of those things can result in body damage to your watercraft. Anchor Marine Repair has knowledgeable and skilled technicians that are considered experts in jet ski repair. They understand the unique characteristics and small quirks that each jet ski is made up of. If you need a jetski body repair shop, our professionals are the right guys for the job.
Insurance Approved Jet Ski Bodyshop
There are many amenities and reasons to choose Anchor Marine Repair. Apart from being excellent at what we do, we are also affordable too! We are an insurance approved jetski body shop that takes pride in the work we do. We will work directly with your insurance company in cases where accident claims may be appropriate. This will intensely speed up the process of you getting back onto the water to enjoy the rest of our summer boating months.
Jetskis are a fun part of the summer and these warm Minnesota months are already halfway over! If you need a jet ski repair, it's time to call us! For more information about Anchor Marine Repair, your St Paul, MN jetski body repair shop, call us today at 763-972-3540 or email us at service@anchormarinerepair.com.