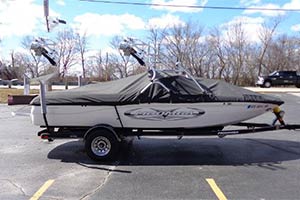 There's just something about a Moomba boat that you can't accomplish with any other boat brand. These towboats are the epitome of luxury when it comes to towboats. Offering a comfortable and durable interior with endless amounts of custom options for your boat, Moomba boats offer their customers the total package. The same can be said for our team at Anchor Marine Repair when talking about Moomba boat repair services. Many Moomba boat owners put their trust in our experienced staff to handle any Moomba boat repair needs they may have. We're here to tell you that you should too!
Free Moomba Boat Repair Consultations
At Anchor Marine Repair, we want our customers to be fully comfortable with their decision to choose us as their Moomba boat repair experts. To help ensure that our relationship starts on the right foot, we proudly offer a free consultation to all of our clients. During this evaluation, we'll inspect your Moomba boat to determine the repairs that are needed. Once the damage is documented, we'll provide you with a complimentary estimate that will break down the recommended repairs. There is no obligation with this estimate. We're confident that you'll find our Moomba boat repair prices to be very competitive. Additionally, we are the #1 boat repair shop in Minneapolis for a reason.
One Stop Moomba Boat Repair Shop
Dealing with a windshield that's been damaged? Is the upholstery in your Moomba damaged? No matter what type of Moomba boat repair you are in need of, Anchor Marine Repair has you covered. Our boat repair experts have more than 45 years of combined experience. Additionally, our facility is state of the art with over 10,000 square feet of workspace. We understand just how important your Moomba investment is to you. Our goal is to make the boat repair process as simple as possible for our clients. This includes a pick-up and delivery option.
As a trusted boat repair shop, we love working on Moomba boats. If you are a Moomba boat owner and you've got some damage that you would like to address, Anchor Marine Repair is here to help every step of the way. To request a free consultation on your Moomba boat repair needs, give us a call at (763) 972-3540 or email service@anchormarinerepair.com.