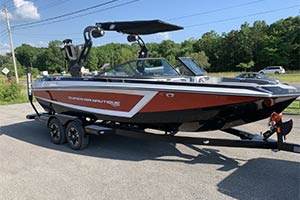 At Anchor Marine Repair, we find that boat owners are unique in their passion for the water and the way they care for their boats and equipment. If you own a Nautique boat, the chances are good that the feeling you have for your boat is even stronger than owners of other boats.  There is no shame in that.  We get it—a Nautique boat is a prized possession that deserves to be taken care of.  Anchor Marine Repair offers the kind of expert Nautique boat repair that Nautique owners need.
#1 Nautique Boat Repair Company
If your Nautique boat has suffered damage from a storm or a collision, we have the experience and knowledge to perform the necessary repairs to get you back on the water as soon as possible.  Whether the collision is a major one that caused significant damage or a minor one that simply created a cosmetic imperfection, you can count on us to use our knowledge in a way that returns your boat to its previous, pre-accident condition.  Collisions often cause damage to the hull and other exterior components of your Nautique boat, and we can make these repairs carefully and quickly to minimize the time you are without your boat.
Fast and Thorough Repairs of Your Nautique Boat
We have discussed Anchor Marine Repair's ability to complete collision repair for your Nautique boat. Once the structural repairs have been made, Anchor Marine Repair can then carefully match color, shine, and luster to the exterior.  Additionally, we provide refurbishment services to interior components of your Nautique boat as well.
Our experience in Nautique boat repair and renovation allows us to perform those services with exacting detail and tremendous efficiency.  That combination is a direct result of our years of experience, deep knowledge of boats, and the care we lend to our customers.
If your Nautique boat is in need of any kind of service, give Anchor Marine Repair a call at 763-972-3540 and we will be happy to help you.