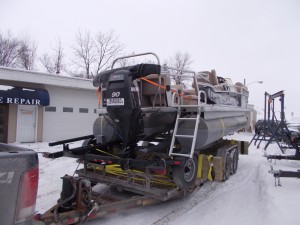 For a lot of people in MN, there is nothing more relaxing than getting out on one of the local lakes and taking a stroll in your pontoon boat. Pontoon boats these days are not what they used to be. These boats now offer luxurious features and a smooth ride on the water. If it has been a while since you last took a stroll in your pontoon boat, the question to ask yourself is if your pontoon boat is ready to get back in the water? Everyone knows that you are ready, but you can only go as far as your pontoon boat will take you! If you suspect that your pontoon boat may need a few repairs before hitting the MN waters, making a quick call over to our team at Anchor Marine Repair.
Pontoon Boat Repairs Made Easy
So many boat owners put off repairs simply because getting your boat over to a repair shop can be a hassle. At Anchor Marine Repair, we get rid of that stress for you! To provide the best customer service around, we will pick up and deliver your pontoon boat from your home or dock. So, now that we've covered that issue for you, what are you waiting on? With more than 10,000 square feet of workspace, your pontoon boat repair will be handled in a timely fashion so that you can get out and enjoy the MN waters quickly! No matter what type of repair you need, our staff with more than 45 years of combined repair experience has you covered.
Restoration Options
Are you embarrassed by the look of your pontoon boat. Does it need a facelift before putting it out on the water? Well, lucky for you, Anchor Marine Repair can handle all of your pontoon restoration needs as well. Has the seating or carpet on your pontoon boat gone bad? Do the electrical aspects of your pontoon boat need to be repaired? As long as your pontoon boat is in good working condition, our restoration services can bring a new, fresh look to your pontoon boat, rather than having to go out and purchase a new one.
So, if you have been delaying your pontoon boat repairs and are ready to get back out on the MN waters, it is time to call Anchor Marine Repair. As your one stop repair shop for all of your pontoon repair needs, we can handle any issues you are dealing with. Give us a call today at (763) 972-3540 or email service@anchormarinerepair.com to request an appointment with our dedicated staff.