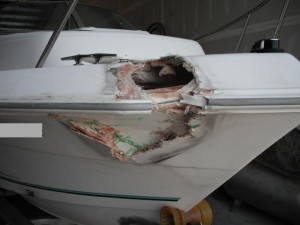 When it comes to luxury out on the water, you can't beat a Sea Ray boat. These flashy, smooth and reliable boats have been around since 1959, and these boats continue to add innovation and more style year after year. Even though a Sea Ray boat has some of the greatest craftsmanship on the water, it is not immune to getting damaged. For Sea Ray owners, it's not just a boat you are investing in, it's a way of life! If you are fortunate enough to own a Sea Ray boat in the Minnetonka, MN area, it is important for you to have a plan of action should your boat get damaged or need repairs. Consider a partnership with our Sea Ray boat repair experts at Anchor Marine Repair.
Sea Ray Boat Repairs
Whether you need regular maintenance, exterior repairs, engine enhancements, windshield replacement, trailer repairs or upholstery restorations on your Sea Ray, Anchor Marine Repair has you covered. We understand how important the health of your Sea Ray boat is to you. Dealing with the damage or repairs on your boat is a big enough emergency for you to handle. Trying to find a reliable Sea Ray boat repair specialist without doing any research is not a position you should put yourself in. By teaming up with Anchor Marine Repair, you'll receive expert repair service thanks to our staff with more than 45 years of combined boat repair experience. Your Sea Ray will be stored in our 10,000 square foot facility to ensure that it is in safe hands during its stay with our staff. Our goal is to take the time and effort on every boat that glides through our doors to ensure that it is repaired to better than pre-accident condition. That mindset and the ability to be our customers one stop repair shop for all of their boat repair needs is how we earned the honor of #1 boat repair shop near Minnetonka.
Boat Repairs Made Easy
Too often we find that Sea Ray boat owners put off their boat repairs because they are having a difficult time getting the boat to a repair shop. Well, at Anchor Marine Repair, we have a solution for you. Offering pickup and delivery service, we'll take the hassle of transporting your damaged boat to us off of your shoulders.
If you are ready to get your boat repaired so that you can get back to enjoying the luxury of a Sea Ray boat, Anchor Marine Repair is here to help! If your Sea Ray boat in Minnetonka has some damage that needs to be addressed, give our Sea Ray boat repair experts a call today at (763) 972-3540 or email us at service@anchormarinerepair.com.