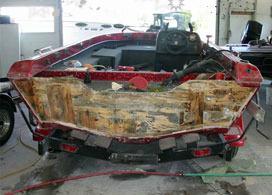 Ensuring that each part of your boat, from the hull to the engine, is working properly is a crucial part of owning a boat and keeping your boat in good working order. Not only will you help to preserve the value of your boat and increase its lifespan, you'll ensure that your boat looks and runs as well as it possibly can. At Anchor Marine Repair, we want to help you make the necessary repairs to your boat, including difficult boat repairs like transom repairs. When dealing with transom repairs, it's important to hire an experienced transom repair team, not just any boat repair company. Because the transom is such an integral part of the boat's structure, there could be what you might call "hidden" damage beneath the surface throughout your boat, so the sooner you look into transom repairs, the better. That way, we can help you avoid any additional damage to your boat. As a Delano, Minnesota boat repair shop, we're able to service boats all over Minnesota, and that means that no matter how far you are or how extensive the transom damage may be in your boat, we're the right team for you.
State-Wide Minnesota Transom Repair Shop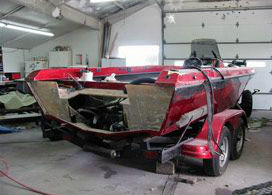 One of the benefits of using Anchor Marine Repair for your transom repair needs is our ability to work with customers from all over Minnesota. Regardless of your location, we've built our business on a foundation of convenience and ease for all of our customers, and we strive to provide the best possible boat repair services to as many people in as many Minnesota towns as possible. With boat pickups and drop offs, we are able to help anyone get their boat into the shop without having to worry about transporting the damaged vessel themselves. Whether you're worried about moving your boat with a damaged transom or you don't want to cart your boat all the way to Delano, we'll pick up your boat ourselves.
Boat Repair Shop for Several Boat Brands
As boat repair experts, we've seen our fair share of boat repair jobs and severely damaged boats. Lucky for you, that means that we're experienced enough to deal with even the most severe transom repairs and even full-boat repairs and refurbishments. We don't specialize in one brand or another, and that means that we can keep our prices affordable. But don't worry; you won't lose out by not hiring a specialty boat repair team. At Anchor Marine Repair, we have experience repairing and refurbishing a large range of boat brands, including:
Chaparral Boats
Alumacraft Boats
Crestliner Boats
Larson Boats
Lund Boats
Sea Ray Boats and Yachts
Pontoon Boats
Glastron Boats
MasterCraft Boats
Ranger Boats
YachtsIf you're looking for affordable and professional MN transom repairs, contact Anchor Marine Repair at 763-972-3540 or service@anchormarinerepair.com, or visit our Delano, Minnesota boat repair shop.