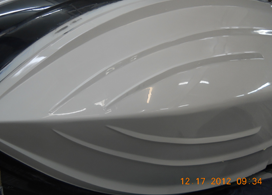 We, at Anchor Marine Repair, certainly understand that most Minnesotans have dry-docked or brought in their boats for the winter season and aren't thinking twice about it. But, if you want to get your boat back on the water as soon as the weather warms up again in the spring, then consider letting us give it the once over. We can make any structural repairs that need to be made, as well as restore your boat to its original glory – having you ready to hit the waters when it warms up. Boating season in Minnesota is short enough…make sure you are ready to go!
No lines – no waiting: Letting Anchor Marine Repair work on your boat now means that you'll be able to avoid the rush of customers that want their boats repaired when the warmer weather moves in. This means, while others are getting their boats seaworthy in the spring, you'll be out enjoying the waters already – ahead of the crowd. Why not use this downtime at Anchor Marine Repair to your advantage? Have your boat picked up, worked on, and delivered back to you. Your being proactive will serve you, and the people that enjoy riding your boat, well.
Expertise at your fingertips: With over 45 years of combined experience, our expert technicians can keep your yacht operating safe and looking great on the water. Anchor Marine Repair ranks #1 in collision repair for a reason. Our staff is experienced and knowledgeable and can repair many types of boats including aluminum and fiberglass. Our facility offers 10,000 square feet of workspace and two spray booths, so you will get your boat back as quickly as possible. NOTE: At this time, Anchor Marine Repair does not employ any mechanics, so mechanical repairs cannot be completed on site.
Off-Season modifications and upgrades: The time away from the lake allows many boat owners the opportunity to remodel, upgrade, and add modifications they've been meaning to make. Even with intensive projects such as hull enhancements, performance modifications or paint, winter is the perfect for making sure that your vessel is ready when the warm weather returns.
Reach out to Anchor Marine for all your boat repair needs (763) 972-3540 or service@anchormarinerepair.com. We look forward to helping you get back out on your boat doing what you love as soon as possible!