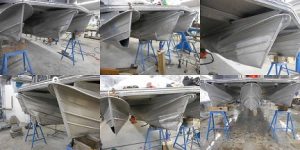 For many Minnesota residents that enjoy spending their free time out on the water, there's not much better than a calm and relaxing ride on your pontoon boat. If your pontoon boat hasn't been used in a while, it's time to get it ready for the next boating season. Whether your pontoon boat has some collision damage that needs to be addressed or it needs to be restored before it goes back out on the water, our dedicated team at Anchor Marine Repair has you covered.
Revitalizing Your Pontoon Boat
The point of a pontoon boat is to be able to relax and enjoy plenty of space while cruising on the Minnesota waters. Pontoon boats are built to last a long time, but there will be times where restorative services may be needed. Is the carpet on your pontoon boat worn down? Do your pontoon seats need to be recovered? Whatever the case may be, our boat repair specialists have a passion for restoring boats that have been a part of your family for some time. Let our staff know the restoration enhancements that you are interested in and we'll handle the work at an affordable price. By choosing our team of boat restoration experts, we'll aim to restore and revitalize your pontoon boat back to a better than new condition.
Pontoon Collision Repair Services
Has your pontoon boat recently been involved in a collision? If so, you want the best and most experienced team in MN to handle your pontoon collision repair needs. The boat insurance companies around the area respect our work because they know that we'll get the collision repairs completed effectively. To help our clients, we'll help you with the insurance claim filing process and will make sure that all of the collision damage is identified and addressed with the insurance adjuster. Count on our team of collision repair professionals with more than 45 years of combined experience to handle your repairs the first time around. In turn, your pontoon boat will be ready to get back on the water in no time.
At Anchor Marine Repair, we love to see the smile on the faces of our clients when they get their pontoon back after our collision repair or restoration services have been completed. To schedule your pontoon boat repair or restoration service in MN, give us a call today at (763) 972-3540 or email service@anchormarinerepair.com.