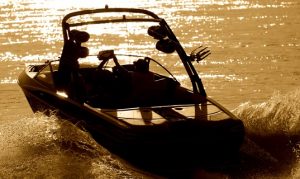 All boat lovers around Minnetonka, Minnesota know that MN has a short boat season. For that reason, it is critical that you have a trusted, experienced and efficient boat repair shop on your side should your boat need repairs. That's exactly what you get by choosing Anchor Marine Repair. We have a passion for seeing our clients out on the water during boat season. So, don't risk missing out on boat season this time around and let our crew handle your spring boat damage repair quickly.
Boat Collision Repairs Fast
At Anchor Marine Repair, we've become the #1 option in boat repairs because of a variety of reasons. One of the main reasons is that our boat repair specialists are able to repair your boat to better than pre-accident condition. Whether you're dealing with collision or storm damage repairs, we'll get your boat looking better than it did before the accident even occurred.
Insurance Approved Boat Repair Shop
Far too often, boat owners put off their boat damage repairs because they don't think they can afford the repairs. Well, the good news about Anchor Marine Repair is that we are an insurance approved boat repair shop. We'll step up in a time of need and work with your insurance company to ensure that all of your boat repairs are submitted appropriately through your insurance company. In turn, you won't be out of pocket nearly the amount you may have thought you would be.
Quick Quality Boat Damage Repair Minnetonka, MN
Since the boat season in Minnetonka, MN is so short, we'll do everything in our power to get your spring boat damage repairs completed quickly. We've got a boat repair team with more than 45 years of combined experience, and we have 10,000 square foot of work space to ensure that we can work on multiple boat damage repairs at once. Additionally, we are proud to offer pickup and delivery services from your home or dock.
If you are looking for an affordable, experienced and trusted boat repair shop to handle your spring boat damage repair quickly, it's time you put your trust in Anchor Marine Repair. If you are in the Minnetonka, MN area and are interested in a free spring boat damage repair estimate, give our dedicated team a call today at (763) 972-3540 or email service@anchormarinerepair.com.