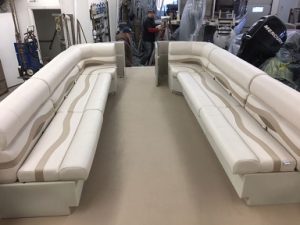 In the last few years, pontoon boats have busted their way through being known as grandma boats and become some of the most popular ways to head on out and enjoy the water. Pontoon boats do an excellent job of handling windy conditions and even choppy water. With two hulls, pontoon boats feel more stable and their ability to handle waves makes them an ideal choice. However, should the hulls of a pontoon boat be compromised, you could be looking at trouble. At Anchor Marine Repair, we have a combined 45 years of experience in dealing with pontoon boat repairs. Whether you are looking to upgrade the interior of the boat or physically to repair the structure of your boat, we are always here to help.
Pontoon Boat Repairs in MN
Whether your deck was injured in a storm or you've had your pontoon boat so long that your lounge area just looks nasty, we are here to help restore it to better than new condition. Oftentimes, owners bring in their pontoons for a brand new refresh. We have frequently done carpet replacements, new seat covers, new pads or an entire gut and reno on the entire thing. From top replacements to floor refinishing, we have seen it all. The best thing about a pontoon boat is that the surface area is so large that you can generally customize it and make it your own. At Anchor Marine Repair, our goal is always your goal. We have years of experience restoring, renovating and repairing pontoon boats from start to finish.
Pontoon Collision Repair
As more boat owners upgrade their pontoon motors and utilize their speed a bit more, we have seen more pontoon impact and collision damage. We have many years of experience assessing the structural damage and restoring your boat to better than new condition. With the right technicians, tools and equipment, every collision repair is done quickly and efficiently to repair your boat properly and get you back out on the water to enjoy the rest of boating season.
Is your boat too damaged to transport? We offer pickup and delivery from your home or dock. For more information about pontoon boat repairs in Minnesota, give your one-stop boating repair shop a call today. Contact Anchor Marine Repair today at (763) 972-3540 or send us an email at service@anchormarinerepair.com.