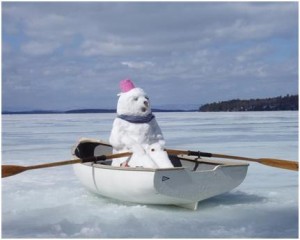 By this point, most boat owners are getting ready to bring their boats in for the winter. Before winterizing a boat, consider any repairs that are still outstanding. The winter months are the best months to tackle repair issues as the months are generally slower in boat repair shops, such as Anchor Marine Repair in Delano, MN. While our shop does not perform mechanical repairs for the time being, we offer some steps to ensure you boat is ready to be shoved off in the spring from a structural standpoint:
Winterizing The Interior Of Your Boat
● Clean and protect vinyl surfaces: The summer's harsh sun rays and other elements can damage vinyl throughout the boating season, but cold weather can cause further damage in the off-season. Before stowing your boat, it's a good idea to clean and protect your vinyl surfaces with an over-the-counter protectant.
● Place a moisture control product inside: It's not uncommon for surfaces to get wet with snow and ice in the winter months. Left covered and unattended, this excess moisture can cause mildew growth in the off-season. Placing a moisture control product inside the boat can help reduce or eliminate this issue.
● Use a bug cleaner on windshields and bow-facing surfaces: Using a cleaner will help to remove caked on bug splatter but will also help to place a protectant on the surface to help keep future bug collisions splatter-free.
Winterizing The Exterior Of Your Boat
● Clean the hull and under side: Once the boat is removed from the water, spray the hull thoroughly to remove algae and barnacle growth. Check for stress cracks around the bow eye and Gelcoat blisters as they indicate structural damage. Accordingly, a professional should look at it if this is the case.
● Apply a cleaner/protectant to the aluminum or gelcoat surfaces: Just as you treat the vinyl inside your boat, applying a wax and/or protectant to the surface of the hull can go a long way to protect its finish.
● Cover your boat: Snow eventually becomes ice, and when water freezes, it spreads, which can cause open hatches and window tracks to split, causing leaks. If you plan on utilizing outdoor storage, your boat will need a cover or shrink wrap treatment.
Don't Forget Your Trailer!
● Check your trailer lights: When you check your trailer before winter, make sure all your lights are working (turn signals, brake lights, and side marker lights).
● Check your trailer tires: Ensure that the air pressure in the tires is consistent all around, according to the manufacturer's recommendations printed on the sidewall. Also inspect for any signs of wear and tear or dry rot.
● Lubricate your tires ball bearings: This usually just involves removing the cap in the hub of each tire and giving it a few pumps of grease.
Scheduling Repairs To Your Boat In The Winter
As we mentioned, the winter season is a prime opportunity to have any repairs done to your boat. Call the marine repair experts at Anchor Marine Repair. Offering pickup and delivery services, we're standing by to service your boat today. Call (763) 972-3540 to schedule your work today!