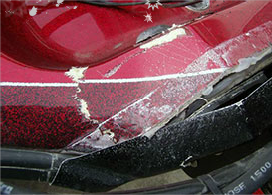 As boating is many people's passion in Minnesota, we understand the importance of boat repair and refurbishing. With over 45 years of combined experience, and boat lovers ourselves, we will keep your fiberglass, aluminum or metal flake boat looking good season after season!
Fiberglass, aluminum and metal flake boat refurbishing isn't just a DIY project, or a skill that anyone can possess after a couple tries or reading an online forum. It is an art that requires many years of dedication, time and patience. Our consistent high quality work is performed by skilled composite craftsmen that absolutely love the work they do.
Damage to your fiberglass or aluminum or metal flake boat can be caused by unfortunate collision, dock, rock, wind, storm, trailer, typical wear and tear, weathering, family members, etc! As boats will indelibly break down over time, having a trusted boat repair shop for your Minnesota boat is necessary. However the damage occurs we can repair, improve the looks and extend the life of your new or not so new investment.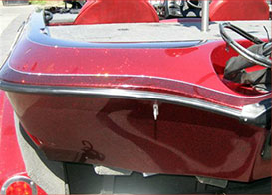 Our trained experts repair minor and major gelcoat and polyflake damage including holes, cracks, chips, air-pockets, scrapes, gashes, spidering, scratches, and delaminations. If your boat has any type of structural boat damage, wood floor refinishing, transom replacement, top replacement, new upholstery, leaking rivet repair or boat trailer repair, let us help you.
For fiberglass, aluminum or metal flake boat repair, we are the team that will best refurbish your boat, and will make sure we do it right the first time, so we can get your boat back to the original beauty at a highly affordable price!
Boat Refurbishing Blaine, MN
Anchor Marine Repair is your local, Blaine MN premier boat renovation, restoration and repair service. Being ranked #1 in Minneapolis, we have worked hard to earn this reputation through the practice of old world craftsmanship, combined with state-of-the-art equipment, high quality products, cutting edge techniques, attentive customer service, and our love for boating.
Boat Refurbishing pick-up, MN
We not only possess the skills to help make your boat look great, but we also offer free consultations and estimates for your convenience. Furthermore, to make everything even better, we will even pick-up and deliver your boat! We understand how important it is to enjoy the summer season on your boat and want to make it convenient so you can do this as stress free as possible. Whatever your boat repair, renovation, refinishing or refurbishing needs and desires might be, the professionals at Anchor Boat Repair are anxious to serve boat owners in the Lake Minnetonka, Central Minnesota and Western Wisconsin area. Call us today at 763-972-3540, or email us at service@anchormarinerepair.com