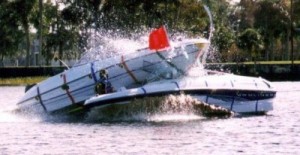 The first signs of spring are upon us….warmer temperatures, bright sunshine and longer days. It is finally time to get outside and back out on the water in your boat. You want your boat to be in the best shape possible heading into the spring and summer, prime boating season. If you have a boat that was damaged last fall or over the winter, now is a great time to contact Anchor Marine Repair for help. Our team can quickly assess damage to your boat, develop a plan for repair and even work with your insurance company to help pay for the repair. We have developed a strong reputation as the #1 storm damage and collision repair shop in the MN, IA, SD, ND and WI area and look forward to partnering with you to restore your boat to even better than pre-accident condition.
#1 Collision and Storm Damage Boat Repair Shop in MN, IA, SD, ND and WI
Anchor Marine Repair can complete repairs on many different types of boats including Alumacraft, Chaparral, aluminum boats, fiberglass boats, yacht, transom and pontoon boat repairs, just to name a few. Our team offers a pickup and delivery service to/from your home so that you do not have to bother with that part of the process. With more than 10,000 square feet of working space and a 2 building unit, our professional crew can complete boat repair and refurbishment often in just a matter of days.
Our Team Will Help You File Your Insurance Claim
Each member of our team has many years of experience in the boat repair business and can also help you file a claim with your insurance company, if you think that your boat damage may be covered. Our skilled technicians use only the finest tools, equipment and repair techniques. We can provide a detailed (and free) estimate and/or consultation so that you can know exactly what your repair will entail and what it will cost. We find that this is especially helpful when you are trying to get insurance approved repairs.
We understand how important your boat is to you. So, before you make your first trip out on the water, make sure that your boat is ready for the season. Call Anchor Marine Repair at 763-972-3540 to have our skilled technicians help you get your boat ready to go!