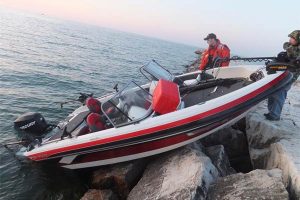 Your boat is more than a vessel; it represents your passion for being out on the open waters. Unfortunately, wear and tear can damage its structural integrity over time, jeopardizing both performance and safety. Anchor Marine Repair's expert boat restoration and repair services in Delano, MN provide you with peace of mind that your vessel will be restored back to its former glory. With skilled technicians and comprehensive onsite services available on-site you can rest easy knowing that Anchor Marine Repair will restore it back to its former glory or better!
Structural Boat Damage
Boats experience structural damage for various reasons. UV rays, collisions, weathering and even age can contribute to cracked hulls, damaged transoms and weak deck structures that comprise not only aesthetics but also stability and seaworthiness of a vessel.
Expert Onsite Boat Repair Services
At Anchor Marine Repair, their team of professional restorers understands all the nuances involved with boat restoration. With state-of-the-art facilities in Delano, MN that feature cutting edge tools and technologies, their expert on-site services provide expert onsite repairs for structural damages of various sorts.
● Hull repairs: Anchor Marine Repair's technicians specialize in diagnosing and fixing all manner of hull issues, from minor gel coat repairs to major fiberglass patching projects. Their expertise ensures your boat remains watertight and structurally sound.
● Transom repairs: Your boat's transom bears the weight of its outboard motor, leaving it vulnerable to damage. Anchor Marine Repair technicians specialize in transom repairs such as rot, cracking, or complete transom replacement to ensure optimal performance of your vessel.
● Deck and structural repairs: Anchor Marine Repair's experts excel in restoring damaged decks, railings, and supporting structures on boats of all types to restore stability and safety. Whether it be warped decks, loose fittings, or damaged supports that need repairing; their expertise allows them to bring boats back up-to-par quickly.
Anchor Marine Repair's commitment to customer satisfaction goes far beyond expertise. Their onsite services offer convenience by handling everything at their Delano, MN location from start to finish; making the experience hassle-free from beginning to end.
Structural Boat Damage Repairs
Your boat represents more than transportation; it represents your passion for adventure and leisure on the water. When structural damages threaten to disrupt this experience, Anchor Marine Repair in Delano, MN provides comprehensive onsite repair services with skilled technicians, cutting-edge facilities and an unwavering commitment to excellence that restore your vessel back to full integrity allowing you to navigate open waters with confidence once more. Trust Anchor Marine Repair to bring new life into your boat so you can enjoy memorable boating adventures!