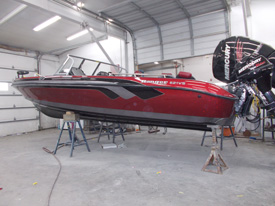 Having to get repairs done on your best friend, also known as your boat, can be tough to swallow. Your boat not only serves as a means of transportation, but it also brings happiness, joy, and adventure to your life. For many, the thought of not having your boat around could nearly bring a tear to your eye. Being that boats are such a large investment, it is very important to address any repair issues immediately. If you live in Plymouth, MN, you are in luck, because Anchor Marine Repair is right around the corner. Our dedicated staff is ready to provide you and your boat the repair services needed to get you both out on the water as soon as possible!
Boat Repair MN
Our goal is to repair your boat to a better condition than it was in before the accident happened. With a passion for boats and over 45 years of combined boat repair experience, our team of professionals have been able to serve as this area's number one boat repair shop for years. Another feature that makes us different than our competition is that we solely focus on boat repairs, and that is it. Our daily time and energy is spent on repairing boats. Our passion for boat repair can be seen by the fact that we have a 10,000 square foot facility built for year round boat repairs.
Boat Damage Repair Done Right
Anchor Marine Repair makes the repair process as simple as possible for our customers. Our flexibility and dedication to our customers makes it so there are no excuses as to why you have not gotten your boat repaired. For an example, we will pick up and deliver your boat to your home or dock as long as it is within 250 miles of the Minneapolis and St. Paul area.
All Brands of Boat Repairs
Our team can handle nearly any boat repair needed. We specialize in yacht, transom, ranger, pontoon, lund, fiberglass, windshield, aluminum, collision and trailer repairs. Worried about the cost? No need to stress as we offer free estimates on all of our repair services so that you can decide whether or not you would like to move forward with the repair based on the price.
Get your boat repaired before lake season is back. If you live in Plymouth, MN, let Anchor Marine Repair handle all of your boat repair needs. Give us a call today at (763) 972-3540 to set up a free consultation.