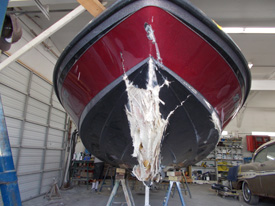 When something unexpected happens and causes damage to your boat, you are understandable upset and shaken. The team at Anchor Marine Repair understands just how important your boat is to you and your family and can help you with the repair process, from start to finish.  Whether your boat has been damaged by a recent Minnesota storm, or has been involved in some other type of accident or collision, Anchor Marine Repair is the leading boat repair shop in the Twin Cities area. We can assist you with the insurance claim process in addition to completing all necessary repairs so that your boat can be ready for the water in no time.
Insurance Covered Boat Repairs
One of the most common causes of boat damage is from a bad storm.  Storm damage can strike anytime of year and leaves your boat in need of high quality repair.  Anchor Marine Repair can complete a wide variety of storm damage and other boat repairs in our 10,000 square foot facility. Our repairs are affordable and we will help you get your boat back on the water FAST.  We specialize in the following types of boat repairs and can handle both large and small jobs:
Fiberglass boat repair
Wood floor and transom replacement
Mercruiser lower unit repair
Boat upholstery replacement
Boat trailer repair
Many of the repairs completed by Anchor Marine Repair are covered by insurance.  Boat repairs should always be completed as soon as possible after the damage so that additional damage is not incurred. Our team can communicate directly with your insurance company and then will repair your boat so that it will leave our shop in better condition that it was before the damage!
#1 In Boat Storm Damage And Collision Repair


Anchor Marine Repair has been serving boat owners in the Minnesota area for years and each of our boat repair technicians has at least a decade of experience repairing boats with our company.  This ensures that each of our customers receives the best possible service and that your boat will be fixed correctly, the first time.  Our customer service is unmatched and we can even come pick up your boat, if you live of the Minneapolis/St Paul, MN area.  If your boat suffers storm or collision damage, call 763-972-3540 to get your boat into our shop for a free estimate.