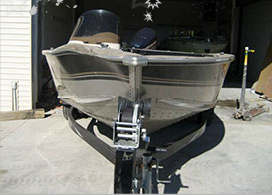 The last thing you want to worry about when you're taking your Lund boat out on the water is the possibility of a collision; you want to relax, take in the view around you, and wait for that big fish to take the bait. When it comes down to it, no one expects something to go wrong with their boat, and even fewer know where to go or whom to trust when it does. At Anchor Marine Repair, we know that it's difficult to find a trustworthy Lund boat repair service, but we want to be that service for you. Based in Delano, Minnesota, we service Lund boats all over the state, and we're #1 in storm and collision damage repair for boats in Minneapolis.
When you come to Anchor Marine Repair, you can be sure that your Lund boat repairs will go smoothly, and we'll make sure that your boat not only gets the repairs it needs but also the refurbishments you want. Whether your Lund boat has suffered from storm damage, a collision, or just old age, we want to help you get looking just like new. Our team will repair your Lund boat's wiring damage and structural damage inside and out, replacing rotten seats, floors and carpets, and transoms.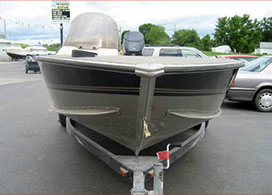 While we make the necessary repairs to your Lund boat, we'll also install any additions to your boat that you request, including full refurbishments. We add storage compartments and rod storage to help make fitting all of your fishing supplies easier, and we can add seating, lights, livewells, and many more features to make sure that your Lund boat leaves our facility looking exactly the way you want it in as little time as possible.
With a team of workers that are passionate about making boats look and operate as best as possible, we all believe in the value of each and every boat we see. We'll treat your boat like we'd treat our own, taking care to repair your Lund boat to your satisfaction and our own high standards. After nearly 15 years of being in the business, each member of our team has at least 10 years of experience in repairing boats, and we are dedicated to staying at the forefront of Minnesota Lund boat repairs.
If you're a Lund boat owner, whenever you're in need of Lund boat repairs, come to Anchor Marine Repair. Our team makes satisfying our customers a top priority, and we believe in making your Lund boat repairs or boat refurbishments as easy as possible for you, so we make a habit of picking up and delivering boats from our facility in Delano, Minnesota. If your Lund boat needs repairs because of a collision or storm damage, or even if you're just looking for a Lund boat refurbishment service, give us a call at 763-972-3540 or email us at service@anchormarinerepair.com, and trust us to make sure you and your boat are better off after meeting our team.