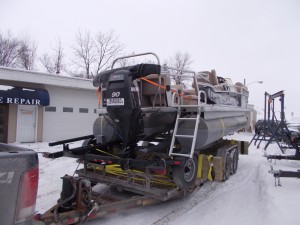 Pontoon boats offer boat owners the amazing ability to sit on the open water for hours with many of the comforts in their own homes. While pontoon boats aren't racing boats, they're great for a variety of on-the-water activities, from fishing to boat parties to tubing! Whatever you're using your pontoon boat for, though, you want to be sure that when the time comes to make repairs, you have a Minnetonka, MN pontoon boat repair company you can trust, and at Anchor Marine Repair, we want to be that company for you. With excellent service and generations of experience, our boat repairs are well-known across Minnesota, and we offer versatile pontoon boat repairs and restorations that will ensure that, no matter the age or model of your pontoon boat, it always leaves our shop looking good as new.
Pontoon Boat Restoration Company
Boat restorations are a regular part of owning a boat, and when you're in need of pontoon boat restorations, you want to be sure that any repairs made to your boat are done professionally. When you use Anchor Marine Repair, you can be sure that the seat, flooring, glass, canopy, paint, and any other parts of your pontoon boat that need to be repaired are restored using only the best materials and the right tools, ensuring that your boat looks like it's been restored by a professional boat repair company, not an amateur.
Pontoon Boat Remodeling
Because you can do so much with a pontoon boat, the possibilities for pontoon boat features, designs, and accessories are pretty much endless. The only problem is that not every pontoon boat is equipped to do everything you could ever want. If you're looking for a pontoon boat upgrade, consider bringing your boat in for a remodel. We'll help you choose the best tables, seats, materials, paint, fishing rod holders, canopy, and more so that you can get back on the water in style and use your pontoon boat in exactly the way you'd like. So break free from those factory settings, and come to Anchor Marine Repair for your Minnetonka pontoon boat remodeling; or better yet, let us come to you!
Pontoon Boat Transportation to Boat Repair Shop
One of the most valuable services we can offer our customers is the promise to be available to pick up and drop of boats for repairs and remodels. Not everyone can take the morning off to bring in their own boat, not everyone has a boat trailer available when they need one, and not everyone wants to drive their own boat to the repair shop. That's why at Anchor Marine Repair, we offer boat pickup and drop-off services. That means that if you're in need of a Minnetonka, Minnesota pontoon boat repair company, you can contact us at 763-972-3540 or service@anchormarinerepair.com and look forward to our hassle-free pontoon boat repair services.