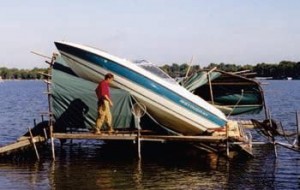 Making boat repairs is rarely at the top of anyone's to-do list, especially when the repairs needed aren't necessary for your boat to run for a while. Now that winter is coming, though, it's time to start thinking about getting those repairs done and making any alterations to your boat before it's time to get it back on the water. If you're someone who's still boating and will continue boating through winter, making necessary repairs now is essential to ensuring your boat remains functional throughout the season. If you're looking for an affordable and trusted Minnetonka, Delano, or Wayzeta, MN winter boat repair shop, you've found us at Anchor Marine Repair.
Prepare for Springtime Fun with Winter Boat Repairs!
Though you might have already put your boat away for the winter and put boating out of your mind until springtime, now is as good a time as any to start the repairs and refurbishments you've been planning for your boat. No one wants to decommission their boat during the boating seasonings if they don't have to, but now that winter is setting in, if you're not using your boat, what better time is there than now to get any repairs made and prepare your boat for the spring?
Winter Storm Damage Boat Repairs
If you use your boat in the winter, or if your boat is stored outside for any length of time in the winter, it's susceptible to winter storms. Often times, boaters don't consider just how much damage a snow storm can to a boat, and they only realize once their boat is in need of repairs. If you're an unlucky boater who needs storm damage boat repairs this season, look to our boat repair specialists. We're adept at fixing all types of boats, from fiberglass to aluminum boats, new name brand boats and generations-old boats.
Boat Repair Services
We repair a wide range of boat types and boat parts, ensuring that we can help as many people in as many areas as possible. Our long list of boat repair services includes:
Alumacraft, Crestliner, Chaparral, Ranger, Lund, Larson, Glastron, MasterCraft, and Sea Ray repairs, and other boat brands!
Pickup and Drop-off Boat Repair Service
One of the amenities we offer that makes our boat repair services so convenient is our boat pickup and drop-off service. We know that hauling your boat in to be serviced can be an undertaking, and finding a quality boat repair shop in your area isn't always possible. That's why we promise to pick up and drop off boats! That means we can easily be a Minnetonka, Delano, and Wayzeta, Minnesota boat repair shop. If you think Anchor Marine Repair might be the winter boat repair shop for you, contact us at 763-972-3540 or service@anchormarinerepair.com today.