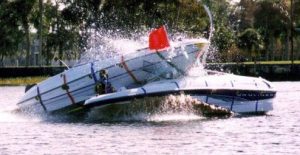 As almost any boat owner will tell you, owning a boat can be exciting, relaxing, and rejuvenating. Some of those same boat owners may tell you that owning a boat can also be stressful, unnerving, and worrisome. It is very common for boat owners to experience wide swings of emotion—it is the nature of boat ownership. Anchor Marine Repair can take some of this stress away from boat owners by allowing them to focus on the positives of owning a boat. We offer storm and collision damage boat repairs for those living all over the Midwest.
Our team can provide virtually all types of boat repairs. We have a passion for boats just like you and have worked hard to make ourselves experts in repairing all kinds of damage done to boats. Below is information about two of our most popular services:
Boat Repairs and Renovation
If you have owned your boat for a while, your busy life might have prevented you from giving it the care it deserves. Its condition may begin to slowly deteriorate. One day you decide that it is time to spend a day out on the water and you strike something in the water unexpectedly. Your boat is now not only slowly deteriorating, it is damaged. You want nothing more than to keep your boat, so it leaves you with little choice but to get your boat repaired and renovated. Anchor Marine is known for the repairs we perform, but we also offer renovation services that will transform your boat to a state that you can be proud of. Our knowledge of boat repairs will ensure that your boat is safe to operate. Our expertise in renovation ensures that you will enjoy all of the luxuries of owning a boat promises.
Fiberglass Boat Repair
Fiberglass has an amazing combination of strength and lightness. Repairing damaged fiberglass is as much an art form as it is a science, and Anchor Marine Repair has the skill and experience to perform the repairs necessary on your fiberglass boat when it has been damaged by a storm or collision.
#1 Boat Repair Shop in Minnesota
To help you even further, we offer the convenience of picking your boat up and returning it to you when your repairs are completed. Our goal, in addition to repairing your boat efficiently and effectively, is to reduce your stress as much as possible. Picking up and returning your boat to you is our way of demonstrating our commitment to reducing your stress. If you have questions about a boat repair job, call Anchor Marine Repair at 763-972-3540 or send an email to service@anchormarinerepair.com.