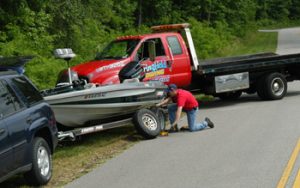 Now that spring has finally arrived and winter has officially ended, it's time to get back on the water. Before your boat can hit the waves again, there are a few tasks you must accomplish first: checking fuel systems, cleaning pumps and cables/batteries; however, many boat owners neglect inspecting structural aspects as well as general cleanliness of their vessels.
Vacuum away any dust or leaves that have fallen under carpets. If you own a pontoon, vacuum its cushions and vinyl upholstery as well. Check for cracks or tears in vinyl upholstery or benches; cover them with seat covers to protect them from mildew and UV rays.
Verifying for damage to the exterior of the hull: Before loading your boat on a trailer or lift, inspect its exterior for signs of leakage. Pay special attention to any new dents or damages and take photos if possible; also consider hiring an expert to repair cracks if needed.
Prep and paint the boat bottom: Performance will be compromised if barnacles and slime get a foothold on the bottom of your boat. Antifouling paints are your best defense in this battle.
Polish, wax, and restore the boat's finish: Though it may not seem necessary to polish a boat's interiors and brightwork, doing so helps maintain the integrity of moldings and protect any structural damage to fiberglass, windshields, or other types of fiberglass (whatever they might be holding together or fastened to).
Check the trailer: Your trailer needs to be maintained just as carefully as your boat, especially if you plan on traveling long distances. First, inspect those tires for flats and make sure their pressure is correct and balanced. Next, grab a friend to inspect the light signals in case one or both bulbs need replacing; additionally, add lubricant wherever it may be necessary.
Minneapolis-St. Paul's Premier Boat Restoration And Repair Service
Anchor Marine Repair can help restore your boat to its former glory. We specialize in upgrades and restorations to all aspects of your vessel, as well as structural work if something appears amiss during a springtime inspection. With a 10,000 square feet state-of-the-art facility featuring two spray booths that handle watercraft up to 48 feet in length, Anchor Marine Repair offers pickup and delivery services along with free estimates and consultations. Give us a call at (763) 952-3554 or email us today for more information!